Generator Installation
---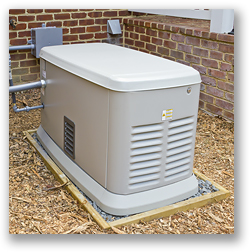 Don't be without power. Especially during a storm.
Most power outages occur during a storm, whether from ice on the power lines to downed trees to lightning strikes or floods. Put your mind at ease with a generator installation.
We can install a fully automatic system or a portable generator with its own panel. The generators are sized to run a few things in your home to everything in your home. The generator will allow the necessities to run such as a sump pump to prevent flooding, a refrigerator and freezer to prevent food from spoiling, lighting so
you don't have to use dangerous candles, the heater so your family can stay warm in the winter, well pump for water, and even a microwave oven.
There are so many benefits, everyone should have one!
Would you like more information on Generators? Email or call us today! 888-675-WIRE